The Beginning
Am/Can. Ch. Rush Hill's Sundae Jubilee
Sire: Ch, Tangleloft Odds on Pebwin CD WC VC OS
Dam: Am/Can Ch. Kinsha's Flight to Rush Hill OD
Whelped: May 17, 1989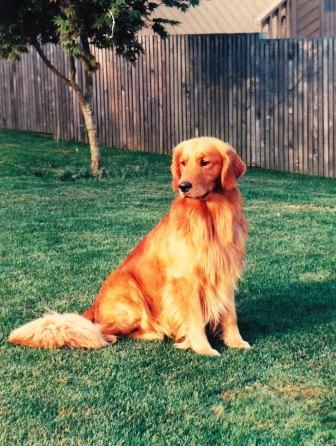 Jubie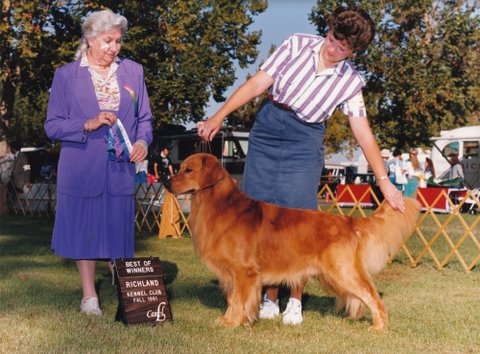 Achievements:
I was so fortunate to have been entrusted with this dog by Tonya Struble. Jubie was indeed a dog to be remembered for both his structure and tempermant yet above all for being my first and foremost "heart" dog. He is from the famous "ice cream" litter bred by Tonya & Mark Struble. The littermate that Tonya kept named Kirby has sired more champions than any other Golden in breed history and Kirby also achieved accomplishments almost unparalled in the conformation ring.
Jubie finished quickly and I just figured this was normal to finish at a handful of shows in less than 6 months. As with any endeavor one learns a lot along the way. My biggest mistake was never to have collected him and I am still kicking myself for that to this day. To have been able to have Jubie's offspring in my house would have provided a solid foundation for future generations of Goldens. Alas this was not a reality.
Jubie outlived all his littermates and went to the Rainbow Bridge at 14 1/2 years. Was he that devoted to me and worried how I was going to handle his passing ? Of course I will never know yet my heart thinks perhaps this could be so.
That gorgeous rich Golden coat, that loving and devoted look he possessed, his sweet personality, those memories will always remain in my heart. Jubie, Scooby-do, Jubers…you are dearly missed.
Pedigree of "Am/Can. Ch. Rush Hill's Sundae Jubilee"

Parents
GrandParents
GreatGrandParents
SIRE

Ch, Tangleloft Odds on Pebwin CD WC VC OS     

Ch. Goldwing True Bear OS SDHF

 Am/Can Ch. Gold-Rush's Great Teddy Bear OS SDHF
Ch. Goldwing Rhythm-N-Blue OD
Ch. Libra Lady Carioca CD OD
Am/Can Ch. Colacove Commando Di Sham
Sutter Creek Serendipity CDX

DAM

Am/Can Ch. Kinsha's Flight to Rush Hill OD

Am/Can Ch. Alderbrookes Rush Hill Rebel Am/Can TD OS SDHF
Am/Can Ch. Tri Valley's Doc Holiday Am/Can CDX WC OS
Ch. Alderbrooke's American Abbey CD
Am/Can Ch. Kachinas Kinsha Kari Am CDX Can cd OD
Ch. Goldwing True Bear OS SDHF
Am?Can Ch. Krishna's E Z Livin' OD
---
Ch. Rush Hill's Colorful Rumor OD
Sire: Can. Ch. Goldflite Sunburst Top Gun Can CD
Dam: Am/Can Ch. Rush Hill's Journey Thru Time OD
Whelped: July 29, 1992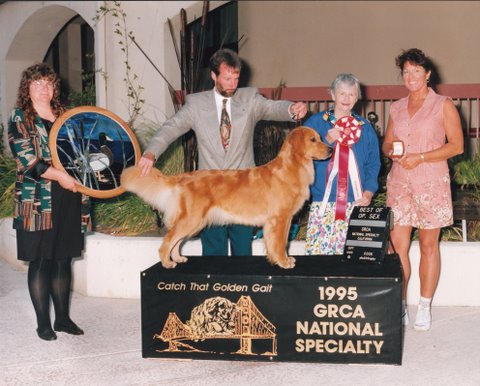 Emily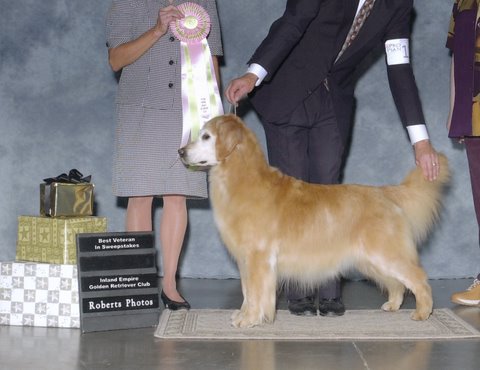 Best Veteran in Sweeps
Achievements:
Once upon a time I had the choice between 2 bitch puppies. I saw them run around and of course I did not know what I was suppose to be looking for and I said "Oh, I'll take that one" and named her Emily. A sweet name for an evil puppy that grew up to be a spitfire. She never lacked in personality and showed like a pistol loving every minute of it. She was shown in Canada as a puppy and first time shown went BOSS at the Canadian National. She left for the Spokane Speciality weekend just prior to her 2nd birthday and on to the Western Regional in Colorado and came home a Champion with 3- 5 point majors in 2 weekends ! I had no idea (again) of how unheard of this was in the Golden world. The next year I thought she should go to the 1995 National in Santa Rosa and sent her out with Randy Schepper. The story gets better. She went BOS at the National under Judge Maxine Beam. What an honor and BOS to Ready, indeed a fantastic dog. After all this winning and commotion Emily was not so elated to come home and just be a dog and just have one person dote on her. She had her turn in the whelping box with some success and considering she only had 3 litters (or lit as one litter was a singleton puppy) and only 5 puppies were in show homes (2 with me) and from those few puppies Emily became an Outstanding Dam. More proud moments for me. Years later and once again I decided that Emily should go to the "big" show and that year the National was in Albuquerque in 2001. As I started getting her ready to be shown (took 3 months) she knew something was in the works. She was so excited and elated to be "back in the ring" again and it showed. She won her 8-10 sweeps class with a judge's comment of "Hard to believe by her attitude that she was a veteran". She went on to show her heart out in the regular classes winning Best Veteran and a JAM ! I am so very proud and honored by those wins. That was such a thrill and to have so many complements about her looks, attitude, conditon, etc. at the age of 9 1/2. After such an amazing time she was not shown much except for a few Specialities after that. At the age of 10 she went Best Veteran in Sweeps along with BOS at Inland Empire Speciality in May. Indeed an amazing show career for a dog that was shown very little and never campaigned.
She always kept me on my toes with her antics whether it was chasing squirrels, the odd rabbit that got thru the fence or jumping off the dock to "try" and catch baby ducks. Rarely was she successful in any of these endeavors. Regardless of her pursuits or her domain her presence was always well known as she demanded attention and I gave it happily.
I am fortunate enough to have two Emily daughters, Meg and Savannah. Meg who is now 12 is a clone of her dam. Every once in awhile I find myself calling her Emily or for a moment at the right time of day or light is right out of a corner of my eye for a brief moment I glimpse Emily ! She was indeed a very special dog and is missed dearly.
You can find Emily's offspring and grandkids if you keep on turning these pages !
Pedigree of "Ch. Rush Hill's Colorful Rumor OD"

Parents
GrandParents
GreatGrandParents
SIRE

Can. Ch. Goldflite Sunburst Top Gun Can CD     

Am/Can Ch. Kiros Westbournes Red Robin OS SDHF

 Am/Bda Ch. Copper Lee Gold Rush Apollo OS SDHF
Am/Can. Ch. Kachina's Kiros Karma CD OD Can CD
Am/Can. Ch. Goldflite Sunburst QT Bear OD
Am/Can Ch. Beckwiths Justa Tuckerbear OS SDHF
Can Ch. Sunbursts Talon Flite O'Fancy CD

DAM

Am/Can Ch. Rush Hill's Journey Thru Time OD

Ch. Goldwing Blues Boy UD WC VCX OS SDHF
Am/Can. Ch. Gold-Rush's Great Teddy Bear OS SDHF
Ch. Goldwing Rhythm-N-Blue OD
Am/Can Ch. Kinsha's Flight to Rush Hill OD
Am/Can Ch. Alderbrookes Rush Hill Rebel Am/Can TD, OS SDHF
Am/Can. Ch. Kachinas Kinsha Kari Am CDX, Can CD OD