Presents
Ch. Boitano's A Whisper of Color.
Sire: Am/Can Ch. Chuckanut's Northern Exposure OS, SDHF
Dam: Ch. Rush Hill's Colorful Rumor OD
Whelped: March 6, 1996- April 9, 2011- 15 years 1 month

Meg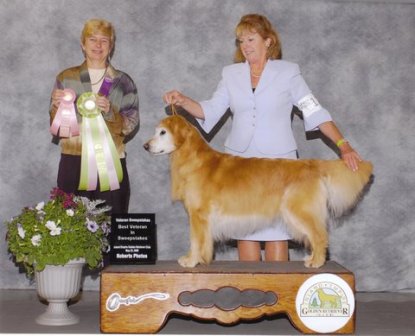 Meg- Best Veteran in Sweeps-Inland Empire Speciality-2008
Achievements:
Meg….Who would have thought this singleton puppy of Emily & Expo's would still today at the age of 12 still be bringing such joy and delight and energy to my life.
Meg was an "only" child and as a result of my lack of knowledge at the time I practically rocked her in a cradle. As she matured and began to be shown my mistakes became quite apparent. She pretty much called the shots and decided what days she was going to co-operate in the ring. Despite her self centered attitude she finished quite quickly. Motherhood quite agreed with her as her offspring doted on her and likewise. Once Meg came into milk just being under the same roof as another of my girl's that had a litter. Live and learn even a singleton puppy needs to have boundaries.
Meg's offspring include Am/Can CH Boitano's Wishkeepers Promise RN, "Makai" and Goldtales Last Hurrah RN, CD, CGC "Mac" plus many other "kids" that are residing with their families.
As Meg has aged quite gracefully I decided to show her myself as a Veteran starting her again at the age of 11. She had not been shown in more than 8 years but she definately remembered how it was done and besides she got all the free food she wanted ! At the Golden Retriever National Speciality in 2007 she placed in both her
sweeps and regular classes. Most recently Meg went Best Veteran in Sweepstakes at the Inland Empire Speciality May 23, 2008 and was in the final cut in the regular classes. Not bad for a 12 year old. Boy, was I tired ! Meg acted like it was just another day wagging her tail at anyone who would look at her !

http://www.k9data.com/pedigree.asp?ID=16913
Pedigree of "Ch. Boitano's A Whisper of Color."

Parents
GrandParents
GreatGrandParents
SIRE

Am/Can Ch. Chuckanut's Northern Exposure OS, SDHF     

Am/Can CH. Rush Hill's Haagen Dazs OS, SDHF

 Ch. Tangleloft Odds on Pebwin OS
Am/Can CH Kinsha's Flight to Rush Hills OD
Am/Can CH Kinsha's Silent Dreamer
CH. Asterling's Buster Keaton OS
Am/Can CH Kachina's Kinsha Kari OD

DAM

Ch. Rush Hill's Colorful Rumor OD

Can Ch. Goldflite Sunburst Top Gun
Am/ Can CH Kiros Westbournes Red Robin OS, SDHF
Am/Can CH. Goldflite Sunburst QT Bear OD
Am/Can CH. Rush Hill's Journet Thru Time
Ch. Goldwing Blues Boy OS, SDHF
Am/Can CH Kinsha's Flight to Rush Hill OD
Gallery for Ch. Boitano's A Whisper of Color.
CH. Boitano's A Whisper of Color BVISS, Meg, celebrated her 15th birthday on March 6, 2011. Indeed a milestone any more in Goldens. I am so fortunate I can hardly believe it and each day is a treasure with her. She still gets around OK and at times she even trots a bit in the yard. I tell her every day how great she looks- " not a day over 12 and you have aged so well my dear " !
She was diagnosed with lymphoma in mid December 2010 and most likely it is in her GI tract. She had some rough days just prior to Christmas but with prednisone and a great variety of food at that time she improved. A few days after her DX I consulted with a "animal communicator" gal who also uses homeopathic remedies according to what is going on with a "client". Needless to say she said right away from looking at Meg's picture that she had cancer- I cried and cried even though I knew she was sick its the reality of knowing that her days were numbered. Meg "told" the commincator that she wanted to wait until spring whent he flowers came back to "leave her vessel ". This was just after Christmas and I doubted she would live another 3 months. I mentioned to the communicator that a few days after the first "session" that I saw two hummingbirds in my yard in December. The gal said often hummingbirds appear when an animal has passed or as a healing/ helping force from the Universe- even when people have never had hummingbirds before ! Winter here in the Seattle area is not a normal time to have hummingbirds in our area. Right away I started to keep feeders out and filled, protected them from ice and snow to keep Meg's guardian friends happy and close by. Since then I do see the happy couple at my house every day or so—-As we are celebrating Meg's 15th birthday on March 6, 2011 with a few friends I say to Meg " All we need now is for your hummer to appear " I have witness's that were there that will verify that I happen to turn around to look out the window and instantaneously see a hummer on the water fountain playing happily ! We all looked at each other in amazement ! Indeed a moment to put in the books !
A special day with a very special grand girl ~ I will always have that day etched in my memory.
Sadly in early April 2011 Meg lost her will to live as the lymphoma made her more uncomfortable and I couldn't bear to watch her suffer and she went to the Bridge peacefully munching on a dog cookie.
This singleton puppy who came into my life in 1996 and lived a joyful happy life has left a imprint on my life and who will always live on in my heart ~ She was such a treasure ~
Miss you Meggy ~