Presents
Goldtales Twist 'N Shout RN
Sire: CH. Sunbeam's Played to Poohfect'n
Dam: Boitano's Southern Star
Whelped: 8/18/2003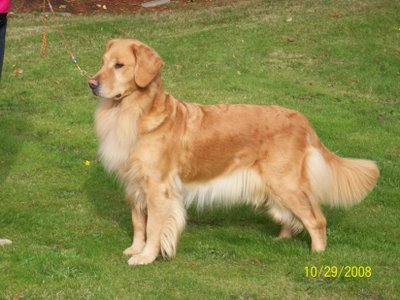 Twister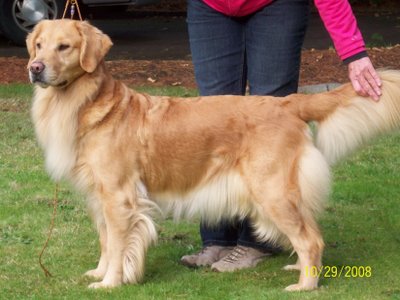 Twister-fall 2008
Achievements:
Twister-Twister…Be careful what you name your dog ! Twister is a very smart clever dog and I only wish I had obedience background to put titles on her. That "learning" behaviour is from her sire, Pooh, that has many obedience titles along with his conformation championship.. Twister inherited her dense coat, great reach and drive, level topline from her dam. Twister is always up for adventure. Her keen nose and sharp eyes keep her posted for any "creature" that has the nerve to enter her yard. Beware creature- Twister will seek you out !
Twister is very sweet and innocent when sleeping on the bed ! But, she's asleep ! She's quite the character, that Twisty !
Twister is currently in training for her Rally Novice title. Yeah, Twister got her first leg on rally novice at the Whidbey Island Kennel Club show on November 16, 2008. Now just 2 more legs to go.
UPDATE !!!!!
Yeah !! Twister has an obedience title and my first obedience title I've put on a dog. Maybe there's further titles in her future. She is now Goldtales Twist 'N Shout, RN – Rally novice title.

Gallery for Goldtales Twist 'N Shout RN