Presents
Multi BISS AM GCHB/BISS Can GCH Goldtales Backwoods Barbie BISS
Sire: GCH Sunkota's Do The Math
Dam: AM /Can CH Goldtales Perfect Credit, CCA
Whelped: Feb. 18, 2016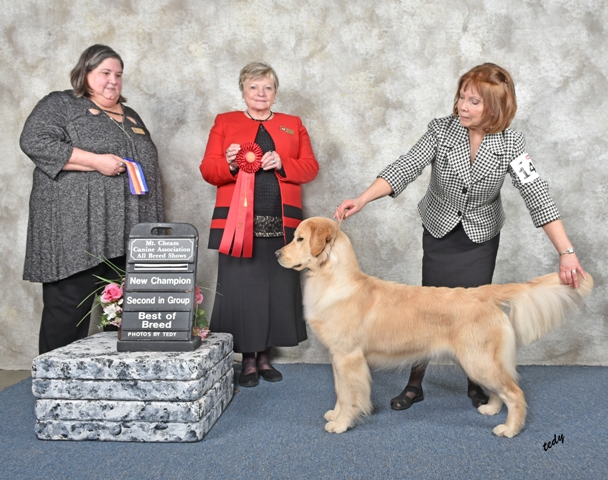 Dolly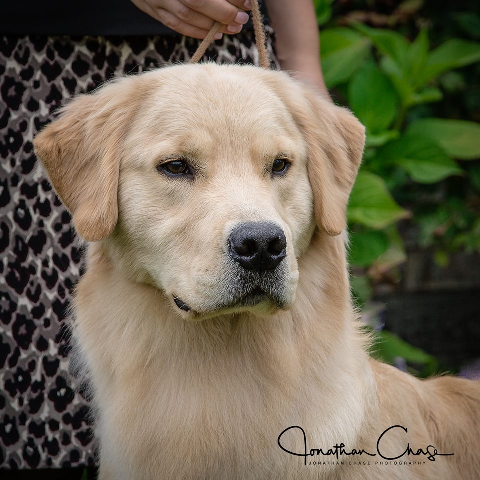 Head shot of Dolly by Jon Chase
Achievements:
Dolly was one of 10 puppies out of Larry X Willow. See K9data link for pedigree. I had high hopes for a bitch puppy from the litter and Dolly has surpassed my expectations at her young age. Two series of puppy classes and she excelled. She has so much confidence and just goes with the flow, nothing phases her. With limited showing in Canada and my good friend Nancy Hargreaves guiding her around the ring most of the time she was a total rock star and finished in 5 shows. Along the way she won BOW twice and same days won the Puppy Sporting group twice. Dolly completed her Canadian CH. with a WB, Best of Breed and a Group 2 at 1 year and 5 days old. Way to go Dolly !
July 2017 ~ Dolly goes to the Canadian National and goes Best in Specialty Sweeps w, Nancy Hargreaves and wins the Breed same day shown by Megan Honari under Jon Chase, a well respected breeder judge from the U.S. If that isn't enough she goes Best in Specialty sweeps the next day also !!!!!
August 2017 at the Evergreen Club Specialty show she goes WB, BOW for a 4 point major, 2 days later she wins another major !
In a handful of shows after that she finishes her U.S. Championship at a total of 7 shows and by December in just 8 shows she gets her Grand Championship ! Egads !!! She's a rock star. Once again Megan Honari and Christian Rutten's expert handling, grooming skills and dedication and love have made Dolly shine.
Dolly's show schedule was very limited in 2018 and only going out to select shows and mostly breeder judges who have rewarded her consistently. Pictures in Dolly's gallery prove she's a stunning girl. Super sweet to boot !


Dolly's pedigree link
Gallery for Multi BISS AM GCHB/BISS Can GCH Goldtales Backwoods Barbie BISS
Dolly was destined to be famous ~ Like her namesake, Dolly Parton. Dolly exceeded my wildest dreams by being ranked in the top 5 Goldens in the country in early 2018. She remained in the top 10 throughout the year. With those statistics she got to compete in the prestigious Top 20 event during the Golden Retriever National. She achieved this again in select showing under breeder judges. She also has garnered 20 Show Dog Hall Of Fame points so far. In tough competition at the Top 20 with well known handlers and dogs from all over the U.S. Dolly was in the group of 3 that had the highest scores, 2 males and Dolly. When they announced that Dolly won the Top 20 I thought I'd faint and friends had to tell me to breathe. There has only been a handful of bitches to win the Top 20 and now Dolly ranks among those "greats" !
Christian and Megan continue to guide Dolly along her winning path. Dolly loves them a lot and she shows it in the ring. They have been an inspiration for so many people and handlers gaining so much respect from the judges and the Golden community along the way.