Presents
HRCH Goldtales Follow your Heart MH, WC, CCA
Sire: Can. CH Tashora's Major Majong
Dam: CH. Goldtales Not Just for Kids
Whelped: Jan 6, 2009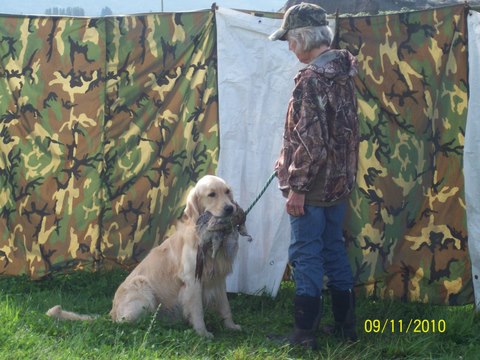 Garrett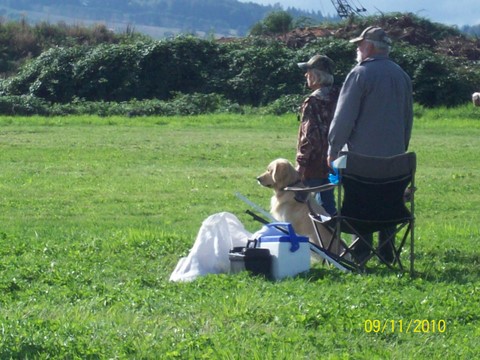 Garrett and Eva getting his WC, Sep 11, 2010-Monroe, WA.
Achievements:
Garrett was one of the standout puppies from Trix & Major's litter born in Jan. 2009. I had confidence a great home would come along that would do justice to this super puppy. I was thrilled when a long time Golden owner, Eva Ostberg, decided she was in love with this puppy~ hence his name "Follow your heart"- both of us knew he was destined for greatness ! Eva has had Goldens for many, many years training them in obedience, field tests and conformation acquiring many titles along the way.
So far Garrett has proven himself very well. To date he has his SHR-started hunting retriever title, Junior Hunter and WC-working certificate. Eva says this is just the baby steps towards future titles. Garrett is a very handsome dog and a enthusiatic personality to boot. I am so very proud of Eva's accomplishments with him.
Fall 2012—Garrett has acomplished so many field titles so far. In his future may be a Senior Hunter title ~
Garrett continues to excel in these venues with Eva's guidance and Andy's training.
Spring 2013- Garrett continues to excel at what he loves—retrieving and achieving hunt and field titles. Eva has done a fabulous job in that department and under the trainer, Andy has achieved the titles Eva had her eye on !
I am proud to say I have bred a titled "field" dog. There's more on the horizon for Garrett for 2013 ~ Stay tuned.
Garrett gets his MASTER HUNTER summer 2014 !!!!! So proud of this dog and his owner Eva Ostberg !

http://www.k9data.com/pedigree.asp?ID=337652