Litter Information
So you think you are ready for a Golden Retriever ?
Are you ready for dog hair on your clothes, your couch and at times even in your food ? Are you prepared for an active, chewing puppy in your household ? Are you willing to take your dog to puppy manners classes and obedience classes as it grows up to give your dog the best opportunity to make it a dog you can live with ? Fenced yard ? Any allergies in the family members? Do you have time for a puppy ? Someone needs to be home with your puppy the majority of the time in its first year. A lonely and bored puppy is not happy and will act out accordingly.
Remember these darling fluffy puppies grow quickly and its YOUR JOB to train your puppy.
IF YOU ANSWERED YES TO THE ABOVE QUESTIONS HONESTLY YOU MIGHT BE READY FOR A PUPPY !!!
******************************
There is lots of great information provided by the Golden Retriever Club of America. www.grca.org  The more information you have about raising, training and loving your dog will make you a better owner for your Golden. There's no such thing as thinking you know it all.
Here are two articles that are "required" reading for any puppy family.
Puppy owners WILL agree to get their Golden's eyes checked by a board certified ophthalmologist once they reach 4-5 years old and for the duration of their life to be checked for GR Pigmentary uveitis. It's that important.
Puppy owners WILL agree to wait until their dog is at least 16 months old to spay/neuter. That means a female will be in heat at least once, maybe twice.
*******************************
I take great pride in the puppies that I breed. A ton of time, effort and love are invested while the puppies are in my care. I have confidence that when they go home they have been well socialized and exposed to household noises. My puppies are all vet checked at 7-8 weeks, first set of shots and wormed several times. It's YOUR job to continue that process to help your puppy grow into a lovable and well mannered dog by attending puppy manners classes and taking your dog to new places and varied situations frequently. This does not mean going to the dog park ! I have heard far too many tales of dogs being frightened or bitten with that one incident remaining with them their entire life.
I am available for questions or concerns that may arise during the lifetime of your new family companion.
Due to the numerous inquiries I get I do not keep a list months ahead of a planned breeding. I have found over the 25+ years of breeding that that list becomes old pretty quickly.
Once I know I have a PG girl I then begin the interview process. That means do not ask to be put on a waiting list as I don't keep one.
That starts with a phone interview where I will be asking a lot of questions. If that goes well I have the entire family out to meet me and my dogs. That time period of about 1 month from when I know I have a PG girl until the pups are born is the best time for me to decide on future families. I never interview more families than numbers of pups expected and do "hold back" a few. After the pups are born and about 10 days old then I can safely say I have X number of pups and sexes. At that point I require a deposit from each family I have approved. Families do not get to visit in the first 3-4 weeks as the Mom needs her quiet time and I don't want anyone bringing in any germs. I text pictures and videos of the pups as they grow during those weeks.
I do have a series of 3 REQUIRED classes for the families that would be getting a puppy. The classes would be when the pups are 5-8 weeks old at my house on weekends. The first hour would be play time with the puppies until they get tired and all fall asleep ! After that it would be a puppy seminar on a variety of topics that I find of importance in promoting health and longevity. Puppy raising do's and dont's, grooming, proper food and nutrition, low shot vaccine protocol, spay/neuter information, proper exercise, contract and AKC registration to name a few of the topics covered.
If you have read ALL of the above information and think you meet my parameters feel free to drop me an email with information about your family.  Work schedules, children,  previous dog experience, own your home, fenced yard, etc.
********************************
Jolene was bred September 9 , 2022 and she is PG .
 Jolene's link to OFA for her genetic clearances
Flynn is the sire and here is his link to OFA
Let me add that communication is very important and while I do try and answer puppy inquiry emails it's still up to YOU to keep in touch if you are serious about a puppy.
*****************************
ENGLISH CREAMS ~ THE REAL TRUTH
***************************************************************
I am an AKC BREEDER OF MERIT
AKC Breeder of Merit Requirements:
•Has a history of at least 5 years involvement with AKC events.
•Earned at least 4 Conformation, Performance or Companion event titles on dogs they bred/co-bred.
•Member of an AKC club.
•Certifies that applicable health screens are performed on your breeding stock as recommended by the Parent Club.
•Demonstrates a commitment to ensuring 100% of the puppies produced are AKC registered.
I have been a member of the Golden Retriever Club of America since 1989.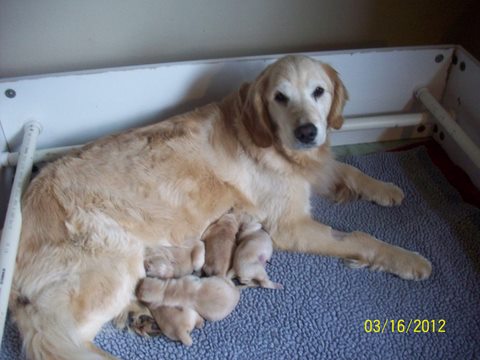 Charlotte with her new babies, 4 girls 1 boy born March 14, 2012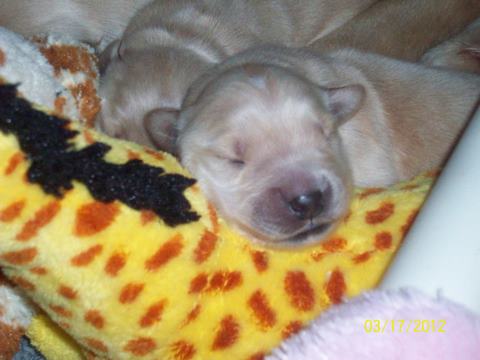 We are all healthy and happy ~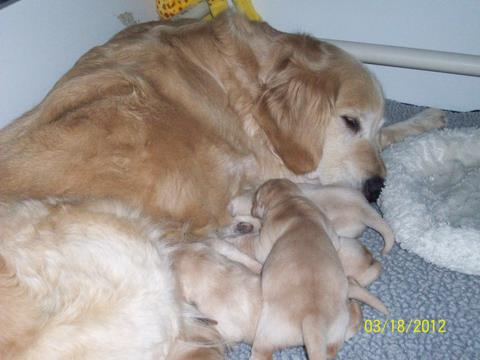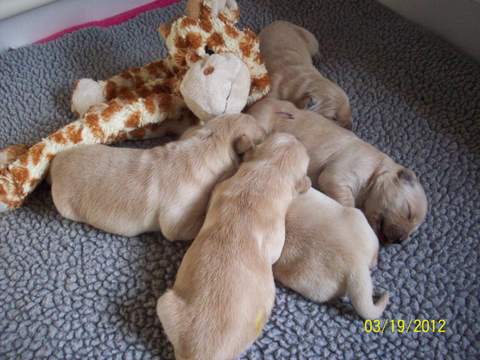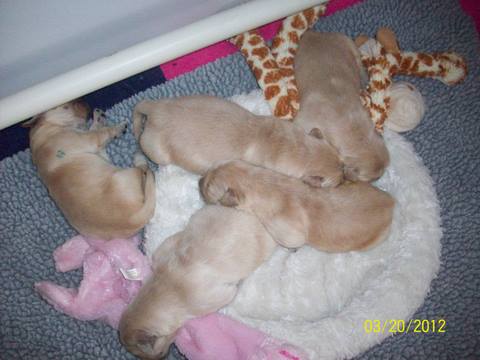 We love to eat and sleep and we love our fleecy bed ~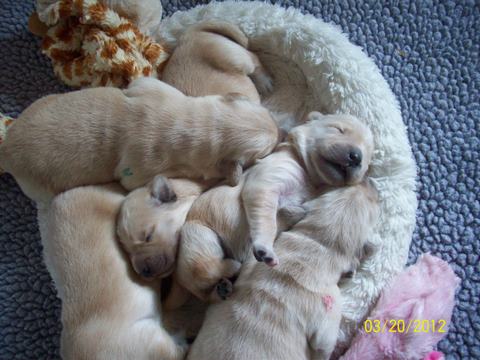 Ahhhh ~ Sleep !