Presents
Goldtales Spirit of Life, CGC
Sire: Ch .Colorbook's Nothing Like the Sun
Dam: Goldtales Twist 'N Shout, RN
Whelped: 11/10/2007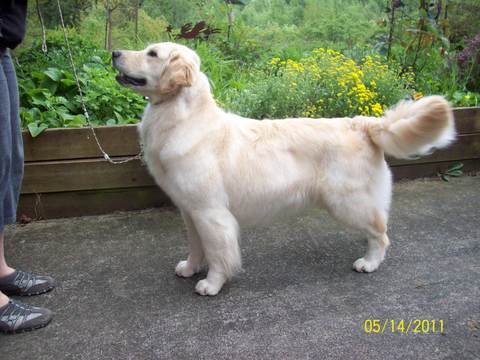 Rafiki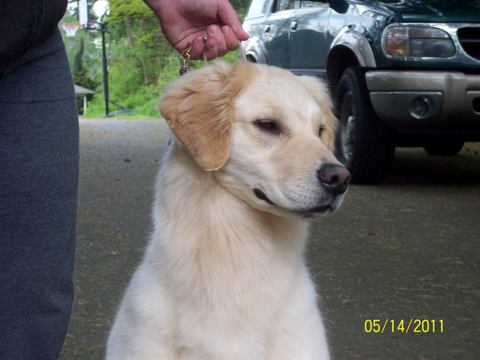 Spring 2011
Achievements:
Yes, her name is Rafiki as in the Lion King's character of the "shaman/medicine" woman. This little blonde girl always continues to make me laugh. She is a spitting image of her dam, Twister, in her antics and ability to get into things. They could not be more different in color and hard to believe the are mother and daughter. Rafiki's sire, Sol was very blonde as a puppy so now we know where she gets her color and grandsire, Decker is very light. Rafiki is the life of the party playing and annoying all the other dogs. If Charlotte won't play well no worries I'll go bug so and so ! She eats/ chews on the strangest things, big plastic wheels she manages to get off the recycle can and run around the yard with ! Now that's a talent. Rafiki will just go to a few shows to get the hang of things and learn the ropes. One of her very first shows she went to Canada and at Sporting Dog Spectacular went RWB at just 7 months. I'll take that !
Sporting Dog Spectacular July 2009- Rafiki goes Reserve winners Bitch from the Open class at the Golden Retriever Club of Canada National Speciality in Surrey B.C.
Rafiki makes the long trip to Enid, Oklahoma for the Golden Retriever National in October 2009. Out of a class of about 30 bitches in Am. Bred Rafiki makes it down to the last 6. A proud day indeed for Maryke who showed her and myself. Rafiki just showed her heart out always ready for one more go-round. What a show dog she is.

Spring 2013 update:
Rafiki has indeed made her mark in my breeding program by producing Coda and Tipsy. She also produced Lulu, owned by Eva Ostberg, who is on her way to achieving hunt titles.
She loves being a mom and dotes on her offspring. All the food you could ask for and tons of attention and lots of puppy families visiting–what more could one ask for !
Rafiki is retired from breeding now after 3 litters each born a year apart. Who would have thought this smaller girl would have litters of 9, 11 & 11 !!!
** Rafiki lives up to her registered name " spirit of life " and is just a happy dog loving life **
Gallery for Goldtales Spirit of Life, CGC