Presents
Can. CH. Goldtales Magic on the Big Screen
Sire: Am/Can CH. Kalars Four Paw Drive
Dam: Am/Can CH Rocklane's Relive the Magic
Whelped: 12/14/2006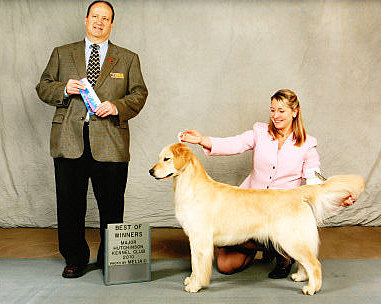 Charlotte's first major-April 2010-Hutchinson, Kansas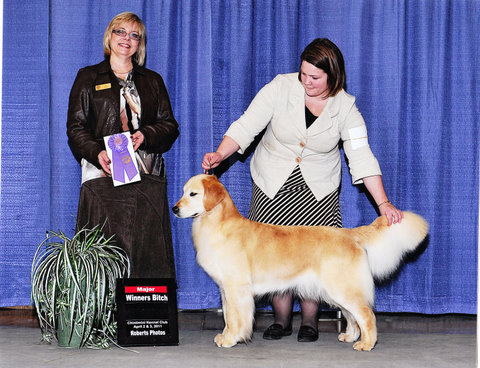 Charlotte second major Chintimini Kennel Club, Albany, Or.
Achievements:
Charlotte is such a happy and easy going girl which exemplifies the Golden Retriever's nature. She was one of the BIG litter of 13 puppies and my pick from 3 weeks of age out of the six girls. I have high hopes for this young girl. Of course I wanted coat for these puppies and yikes..be careful what you wish for ! She was shown some as a puppy (BOSS at the Canadian Western Regional Speciality, July 2007) and has been at home growing up.
UPDATE:
Charlotte goes to Fraser Valley shows in Cloverdale, B.C. for four days Oct. 10-13, 2008 and comes home a Canadian Champion. !!!
UPDATE:
Charlotte goes to Kansas with Tiffany and Shea Skinner- April 2010- First time out with these great professional handlers. First day she goes WB & BOW for a 4 point major. Second day she goes WB & BOS for 2 points under breeder judge Donald Sturz.
UPDATE:
Spring 2011- Charlotte has her coat back and gets her second 4 point major shown by Maryke under breeder judge Cheryl Shaw.

Gallery for Can. CH. Goldtales Magic on the Big Screen