Presents
CH. Goldtales Line of Credit, CCA
Sire: CH. Nubridge En-Joy I'm no Angel
Dam: Boitano's Southern Star
Whelped: 4/03/2005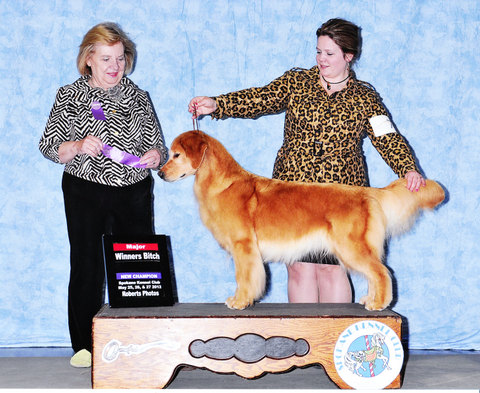 new CH. – Inland Empire May 26, 2012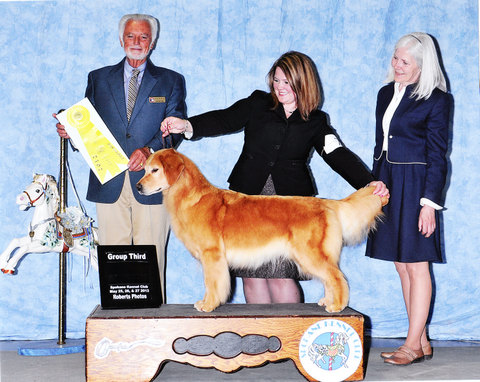 First day as a Special- Group 3
Achievements:
Visa was one of two female puppies that I liked from from Savannah's last litter. So I kept both and I am so glad that I did. They have both turned out to be very nice girls and have done well showing in conformation. Visa is the image of her dam's tender and loving tempermant. All she really wants to do is be your best friend. Visa has become a great bitch to show as she races to get in the ring, always hold her stack and moves with ease and has a dead level topline.She has matured into a great Bred-By bitch and my dream is to finish her from the Bred-By class. That being said and competing in Bred-by is tough competition. Unfortunately all breed judges do not give much credit to breeders. While quite possible to win the Bred-By class and I have done so it's unusual to get the points from that class. I moved Visa to open and she started winnng more points. She currently has 12 points with one major so that last major has eluded her to date.
**********************************************************************
VISA IS NOW A CHAMPION !!!!!!!!!!! May 26, 2012
I had a dream should be Visa's theme. I have always believed in her. She is very deserving of that conformation title in front of her name but it has eluded her until the age of 7 ! After two litters and waiting for her to get coat back after Wally, the singleton was born in October, 2011, she still possessed that solid topline, impressive sidegait and she was elated to be back in the ring. Maryke Nau, my much younger other half, wanted to be given a chance to see if she could win with her at the Spokane shows for that last elusive major Visa needed. Maryke, who showed in Juniors, loves competition and does an amazing job handling was excited to show Visa. First day at the Inland Empire Specialty Visa goes 2nd in a huge open bitch class. Not bad for not showing in a year !!! Next day Visa wins the open bitch class and goes WB to finish !!!!! I was in the ring with Visa's daughter Willow, who had won the Bred By class and along with Visa going Winners Bitch, Willow goes Reserve. Many tears of joy were shed and the judge gave me a big hug with the details of the mother daughter win. Initially she couldn't figure out why I was in tears ! ******* To top all that off the next day Visa's first day out as a Special she wins the breed over numerous Specials AND she goes on to a Group 3 !!!!!! Many more tears !!!
This win will be forever etched in my mind and I am thrilled that I had the conviction to see this dream become a reality. It hasn't been an easy road and lots of close wins along the way.
From a breeder's standpoint to have a dog as sound as Visa is at the age of 7 years is something to be very proud of and indicative of a quality breeding program.
******************************************************
Visa is a show dog supreme– she comes alive when she gets to go in the ring. She will be shown selectively trying to achieve her Grand Championship. I can hardly wait to show her as a veteran after April of 2013 ~
Visa achieved her Grand Championship rather quickly considering sometimes there were 8-10 bitch specials being shown which included some of the top winning specials. I actually showed her the day she got that last point, March 9, 2013. To say I was proud in an understatement ~

 ***** VISA is now GCH. Goldtales Line of Credit **** March 9, 2013 ****