Presents
Am, Can, Intl CH Goldtales Mister Big Time RN, CGC
Sire: Am/Can CH. Kalars Four Paw Drive
Dam: Am/Can CH Rocklane's Relive the Magic
Whelped: 12/14/2006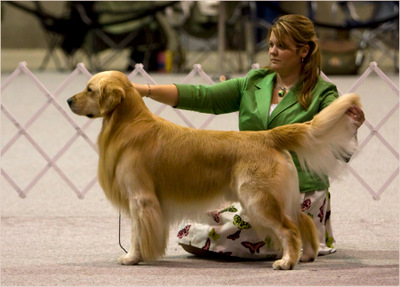 2009 National Enid, OK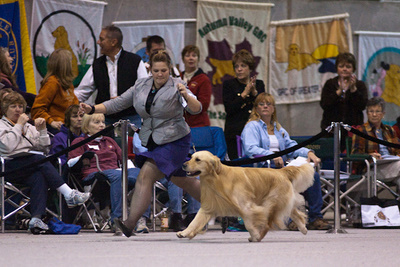 2009 National Enid, OK
Achievements:
Jovi lives with his two best friends, Maryke, the human, and a (giant) Manchester Terrier named Goose. He is up for anything, whether it is watching TV, swimming at the lake or just going to the store. Jovi is always a willing participant, and is an exceptional Golden in that he knows when someone needs to feel like they are loved and provides undying affection.
As much fun as he is at home, he is a dream to show. Jovi is always a ham, and he knows in the show ring it is all about him. He has only been shown a few times and has proven himself worthy of every win. Jovi currently has 11 points with 3 majors, and looks forward to continuing obedience training after finishing his American Championship.
You may contact Maryke Nau at goldenonyx@hotmail.com
UPDATE !!!!!!!
Jovi completed his American Championship at the Evergeen Speciality on June 20, 2010 going WD & BOW for his 4th major ! WAY TO GO ! To say it was thrill for Maryke and I is an understatement. As always Jovi was groomed and showed to perfection by Maryke. Jovi's dam, Ava also finished with 4 majors and shown by Maryke. A family tradition perhaps !
April 2013 update ~ Jovi continues his ways by also being a proven stud dog. He has sired about 6 litters and has puppies on the way and another breedling lined up. He is producing his fabulous temperment, nice fronts, level toplines and beautiful heads. I'm very proud of his offspring and Maryke continues her accomplishments as a breeder and stud dog owner.

Summer 2013 update ~ Maryke moved to Vancouver, WA. in fall of 2012 for a teaching job, she buys a house and got married in July of 2013 to Ben. Now their "canine family" has grown to include one of Jovi and Rafiki's offspring, Coda,  
http://www.k9data.com/pedigree.asp?ID=412746
, and a bitch puppy, bred by Stacia White, Stevie.
Along with all the above activities in 2012/2013 Maryke also got her Masters degree !  To say I see a fabulous future for my most favorite young friend is an understatement ~ DREAM BIG !!
Gallery for Am, Can, Intl CH Goldtales Mister Big Time RN, CGC